10 Gorgeous Small Bedroom Designs for Homes
|
Stay Single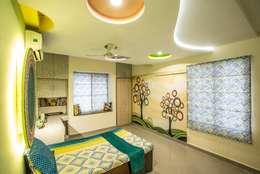 Quite often, a double or queen-size bed makes a small room look cramped. Instead, opt for a single bed with a pull-out bed for accommodating additional guests. This leaves ample room for walking around.
Keep Off the Floor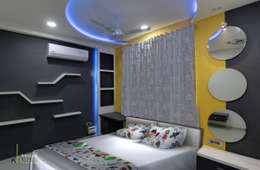 When you don't have any other option than to place the head board against the window in the room, get floating bedside tables and bookshelves to free up the already crowded floor space.
Resort to Visual Trickery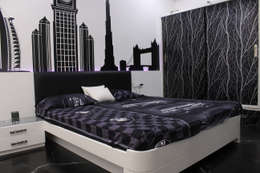 What do you do when your bedroom has just enough space for a bed and two side tables? Try to create the illusion of space. This monochrome bedroom, designed by Shadab Anwari & Associates, has black silhouettes of towers painted on the wall behind the headboard that trick the eyes into believing that the room is larger than it is.
Cut a Corner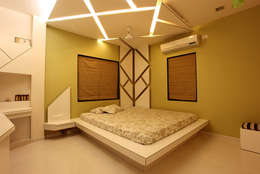 In this small bedroom, where the built-in study area occupies an entire wall, make the room look less crowded by pushing the bed to the corner. Adding an interesting design feature, like the panel that travels up the corner wall and connects to the false ceiling, adds style to the room
Reflect Spaces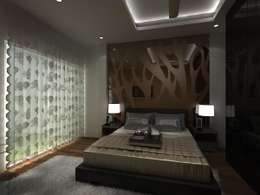 One of the most commonly used tricks for making a room appear larger is to introduce reflective surfaces that give a sense of expanded space. In this small bedroom, the mirror wall art behind the headboard as well as the shiny laminate on the wardrobes achieves that.
Use Contrast Shades and Layers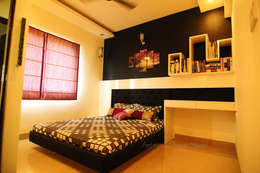 Add contrast colours to the walls to create a sense of depth, like in this bedroom that effectively combines black and white. Rather than straight lines, use layers with shelves at different levels or even collage photographs or artworks on the wall to trick the eyes into seeing height and depth.
Get Floored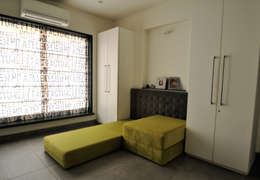 Low beds help in making the room look bigger by increasing the distance to the ceiling. In this bedroom, the use of foldable cushion mattresses not only gives it a rustic feel, but the folded mattress also doubles up as a convenient side table when the extra bed isn't in use.
Bare Minimum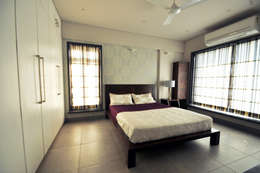 'Less is more' when it comes to creating the illusion of space. Notice how the no-frills approach in this small bedroom gives it a spacious feel with the only furniture in the room being a bed, a side table and a tall cabinet in the corner. Roll up blinds instead of pleated curtains complete the look.
Keep it Light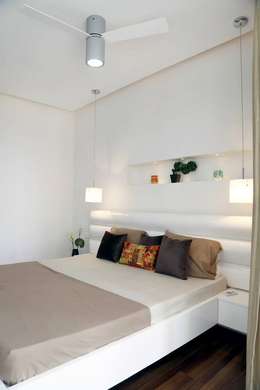 Light colours make a room look bigger, while dark tones close in and make the space smaller. White walls, headboard, side tables and linen give this small bedroom a sophisticated feel. Add pastel cushions and a throw to provide relief from the monotone.